We are very proud of our supporters and gladly offer them some space to introduce themselves. Please take also a look into their websites and social media profiles. Thank you!
Just as colourful as our woolly material is our knitting / crochet community. Diversity enriches our everyday lives and our society, I find it essential in a peaceful and respectful interaction with one another. This is exactly what is celebrated every Wednesday at the queerMaschen meetings, where I was lovingly received from the beginning. The passion for wool connects us no matter how different we are. That's why I'm so much looking forward to supporting YarnPride this year!
To see me "in action" please look on my Youtube-Channel!
I love my yarn shop on the Türkenschanzplatz and all the wonderful qualities of wool.
Equally I appreciate my customers, no matter what skin color, gender, nationality – only a respectful approach and our common hobbies – knitting and crocheting – counts.
I am especially happy to be able to support YarnPride with all its diversity for the first time this year.
In addition to editorial activities on my film and music festival portal www.hennesy.cc , I create the world of haptic advertising. Whether a suitable promotional item for the rainbow parade must be found or my layout skills for various types of printing are in demand, I am a supporter from the very start. In return I am looking forward to all the garments crocheted / knitted for me by queerMaschen!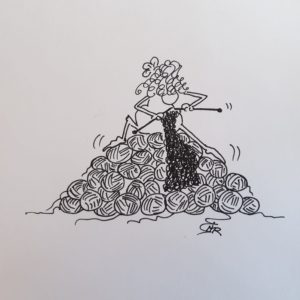 All my life I've been involved with design, be it wool and thread, pearls or brush and color. Making things together is even more fun. It shows that the tastes and preferences are different and diverse. My commitment is a step forward for tolerance and to live, promote and sometimes demand it for oneself.
My little, fine label frysanja stands for individual design, my customers' wishes are in the foreground. But no matter if bag or wallet, knitted scarf or crocheted clutch. To be different is an enrichment, personality, authenticity and honesty are important ingredients for a harmonious coexistence. I am happy to be a supporter.
I'm happy to be able to work in different fields with different people – like now with queerMaschen & Allies for the Yarnpride. Through our work we are on the way to become a community of internationally-minded people, who are inquisitive, knowledgeable, principled, open-minded,respecting the views, values and traditions of other individuals and cultures and are accustomed to seeking and considering a range of points of view.
Diversity enriches life! … and lovely wool does so too! I support YarnPride by queerMaschen, because by knitting and crocheting together we create a wonderful space for communication and interaction.
As sexual diversity and identity also play a role in caring nursing for the elderly, the project Rainbow over the KWP was introduced by the management of the Wiener Pensionisten-Wohnhäuser / KWP.
The aim of the project is to promote openness and acceptance as well as the quality of life for our residents. It is a matter of the heart, not just a care and nursing facility, but also a space for living and development, where all people feel welcome and in good hands with their individual lifestyles. Because every older person wants to be treated with respect and to shape their own lives, this is also firmly anchored in our corporate ethics.
Therefore, we are proud supporters and cooperators of the YarnPride, which celebrates in cheerful, colorful and skillful way the equally colorful diversity through wool and yarns.
The KWP is a non-profit private law fund of the city of Vienna. It runs 30 houses in Vienna, which provide around 9,000 places and thus a home for older people. In addition there are the 150 pensioner clubs of the city of Vienna with about 17,000 enrolled club visitors. This makes the KWP Austria's largest provider of senior care services throughout Austria. In total, more than 4,400 employees work with the KWP. More information about the offers and the company itself can be found on www.kwp.at.
Diversity, networking and tolerance are very important also in the online world. That's why I support YarnPride, a project by queerMaschen.