Many thanks to all donors, we are sold out!
This year we would like to promote Queer Base with various activities. Queer Base helps and supports lesbian, gay, bisexual, trans, intersexual and queer (LGBTIQ) people who have fled to Austria.
The heart of our Charities 2022 is a recycled shoulder bag on which the "cotton cloud" against the background of the peace sign in the rainbow colors encourages us!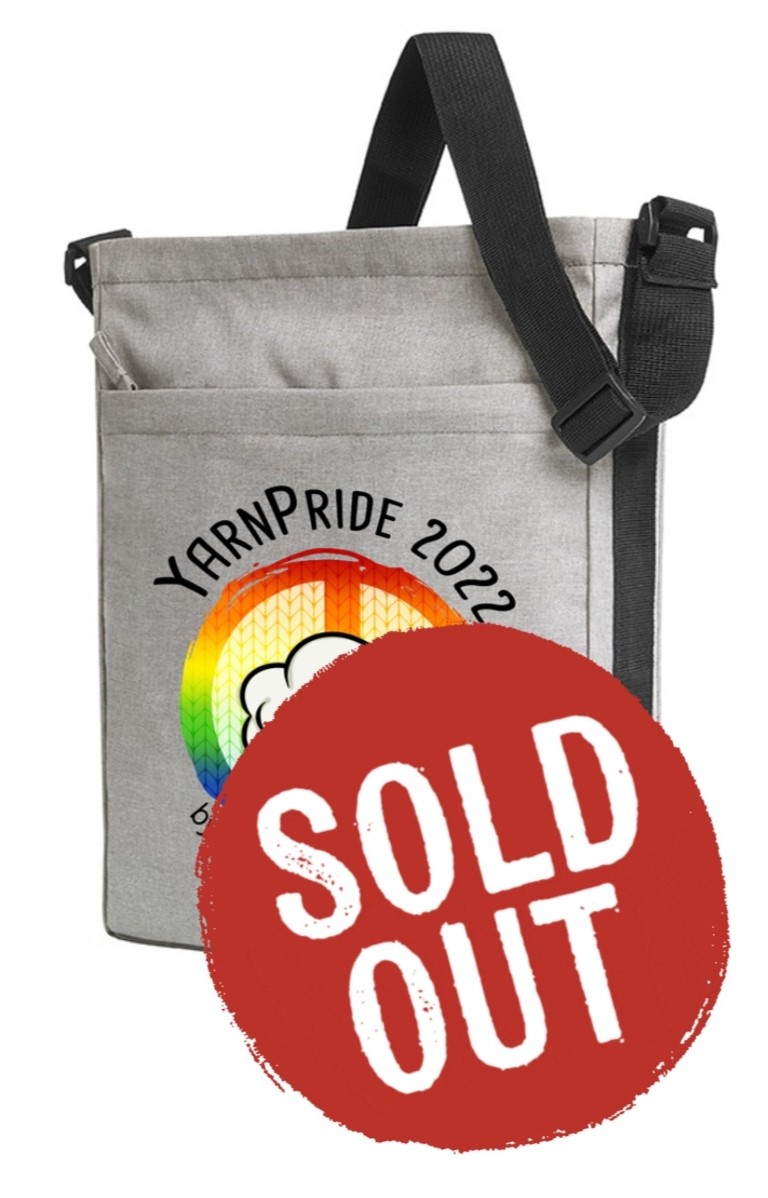 Details of the shoulder bag by Halfar:
rPET surface

spacious ,zipped main compartment

front pocket with hidden zip

length-adjustable shoulder strap

Size 38x32x7cm

Colour: light gray mottled

Material properties: PVC free, recycled material

Special feature: compatible with laptop inlays
What is the bag filled with?
Knitting pattern (in German and English) for the shawl "Follow the Rainbow" by Sosu,
Knitting pattern (in German*) for the "Zugspitze" cowl by Nicolor,
Ravelry voucher for a pattern of your choice from Rililie,
Stitch marker set by mealana and
Postcard from queerMaschen.
The details of the individual goodies can be found below.
---
How to order?
The bags can be ordered and delivered now! We have had a limited number produced, so be quick when ordering :-)

Only use the contact form below to place an order. This is how we ensure that no order is lost.

Be especially careful to enter your email address correctly. You will automatically receive a confirmation email when you have successfully sent the order. If necessary, please also check your spam folder.

We recommend a minimum donation of 25 Euros per bag.

There is an additional 4.68 Euros for shipping to Austria and 11.88 Euros for shipping to Germany. For shipping to other countries, please send us an inquiry through the contact form.

There is also a pick-up option again (without shipping) at our Wednesday Maschenkränzchen at the magdas Hotel in Vienna. If you pick it up yourself, simply leave the address fields blank and write "self-pickup" in the note field.

After we have received your order, you will receive another email from us with the total amount to be transferred to our donation account. When making the transfer, please be sure to state the order number that you have been assigned by us as reference. This is the only way we can assign your transfer exactly!

As soon as we have received your transfer, we will send you a) the Sosu patterns (PDFs in German and English) by email and b) inform our cooperation partner, Nowak, that they should arrange for the bag(s) to be shipped to you . You will receive a GLS tracking number from Nowak via email, which you can use to track the shipment.
P. S.:
Your data will only be used and processed in the context of the charity. They will not be passed on to third parties, either by us or by Nowak. After the end of the charity, all data will be deleted.

We handle the charity without a web shop, so there is just a little automation on the order process. We ask for your understanding that answering emails can take up to a week, since we carry out our activities on a voluntary basis. Many thanks!
Many thanks to all donors, we are sold out!
---
Details of the goodies you will find in the bag:
Knitting pattern "Follow the Rainbow"* by Sosu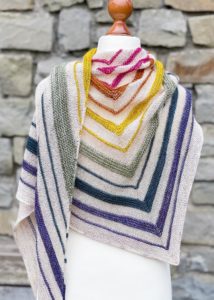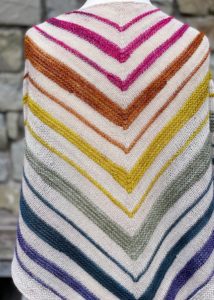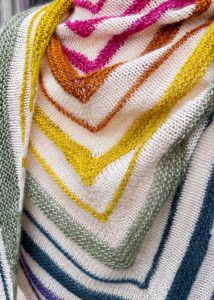 * The PDF instructions (in German and English) will be emailed to the donors after receipt of the donation.
This rainbow shawl is dedicated to queerMaschen – an LGBTIQ+ knitting and crochet group from Vienna – and queer knitters everywhere. Proceeds from this knitting pattern support the LGBTIQ+ community and organizations through queerMaschen's annual YarnPride fundraiser events.
Follow the Rainbow is a triangular shawl knitted in stockinette stitch with contrasting stripes in short rows in garter stitch, top down. An i-cord surrounds the entire shawl – from the cast-on to the edges to the bind-off – ensuring a clean finish and beautiful edges.
The shawl shown is knitted in a variation of the traditional 6-color rainbow flag, but the 12 contrasting stripes leave plenty of scope for customization: add more colors to make a Progress Pride shawl, or use the colors of the Transgender Pride flag, etc.
Not feeling that colorful? You can use between 1 and 12 contrasting colors, or go for a single color version. Just as you like it!
P.S.: The instructions can also be knitted with a specially colored rainbow kit from DyeMyeStyle.
(This pattern is the revised version of the New Beginnings scarf reissued in an expanded rainbow version in support of the YarnPride fundraiser.)
---
Ravelry voucher by Rililie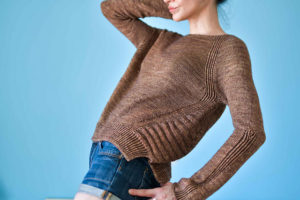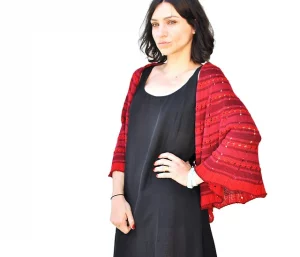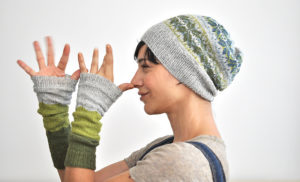 Rililie is participating again and provides a Ravelry voucher for each bag, valid for a pattern from her large, fabulous treasure trove of patterns on Ravelry! Here you can browse and pick: https://www.ravelry.com/designers/la-maison-rililie
---
Knitting pattern "Zugspitze" by Nicolor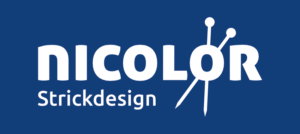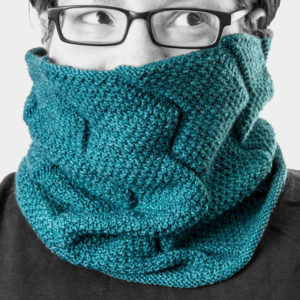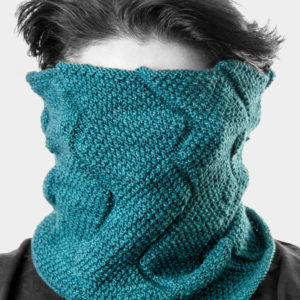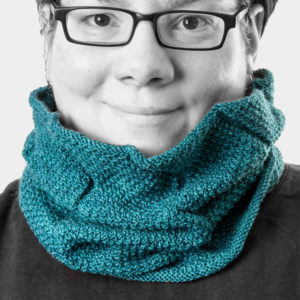 With this pattern, you'll be perfectly equipped to lead the procession of any Rainbow Parade! You quickly find your way into the Pride rhythm and strut with the many other participants "Yarn-proudly" through your city and chant "Happy YarnPride 2022!"
* If you'd like to have the pattern also in English, please contact us and we will forward your email to Nicolor.
---
Stitch markers by mealana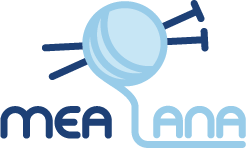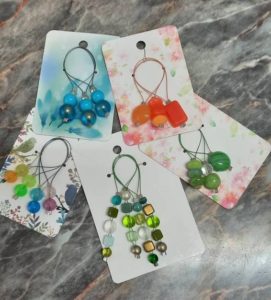 For the first time at YarnPride: mealana with handmade stitch markers – so that your Sosu, Rililie and Nicolor knitting projects are successful and safe!
---
YarnPride 2022 post card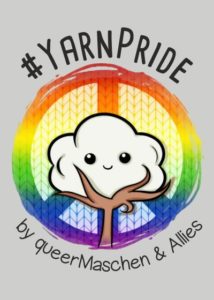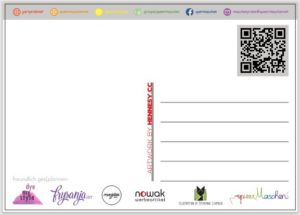 Consider writing again and send queer greetings to the world. Or share the postcard with your loved ones, so that they too can easily access our website via the QR code and learn more about our activities.
---
… finally, a few words from our sponsors: