Want to crochet or knit something yourself and do good while you're at it? Then we have the perfect patterns for you!
Knitting and crochet patterns
Sosu's "Follow the Rainbow" shawl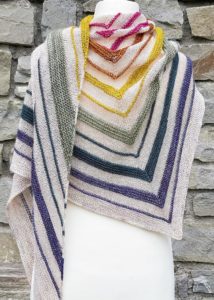 Net proceeds from this knitting pattern support the LGBTIQ+ community and organizations through queerMaschen's annual YarnPride fundraiser events. Follow the Rainbow is a triangle shawl knit in stockinette stitch with contrast stripes in short rows in garter stitch from top to bottom.
An i-cord encircles the entire shawl – from cast-on to the bind-off – for a neat finish and beautiful edges.
(This pattern is the reworked version of the New Beginnings shawl, reissued in an expanded rainbow version to support the YarnPride fundraiser).
>>> Click here to go directly to the shawl instructions on Ravelry <<<
---
frysjana's rainbow sheep and rainbow alpaca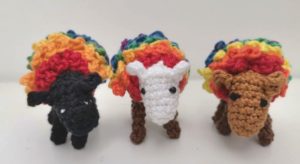 Sandra has written two crochet tutorials for adorable sheep and alpaca amigurumi, respectively. You can purchase the tutorials on Ravelry, with net proceeds going to the YarnPride 2023 fundraiser.
>>> Click here to go directly to the sheep tutorial on Ravelry <<<
>>> Click here to go directly to the alpaca tutorial on Ravelry <<<
---
Dirk's rainbow dwarf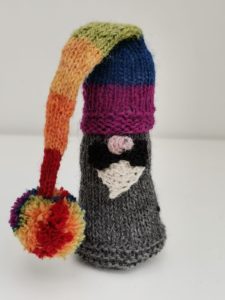 This year we again welcome Dirk's rainbow dwarf! With dyemystyle's pattern you can knit cute rainbow friends to express your "wool pride".
The cute amigurumi are a quick knit, make a perfect gift for your loved ones and are certainly an eye-catcher at every Pride parade.
>>> Click here to go directly to the Rainbow Dwarf tutorial on Ravelry <<<
---
Matzinger / Tzingerl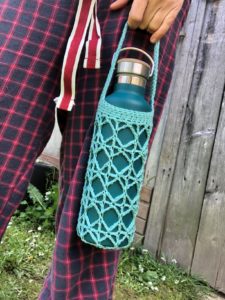 Stay hydrated! Summer is just around the corner and we want to go to the outdoor pool or outdoor party with as little luggage as possible. But in order to keep our appearance fresh for as long as possible, we definitely need something to drink! So put the bottle into the stylish and practical carrier and let's go!
>>> Click here to go directly to the Matzinger-/Tzingerl pattern on Ravelry <<<
r!bbelmonsters crocheted heart!
During Pride we will crochet hearts and give them away and we're inviting you to give creating your own crochet-hearts a try. We're especially proud that we could win r!bbelmonster as a supporter a couple of years ago and that we're allowed to use their graphic chart on our site and postcards.
Through this link you will find the detailled instructions (German only) – Kleines Herz häkeln
On r!bbelmonster's site you will find even more patterns and instructions to crochet, knit, sew and craft – check it out!
You can also get in touch with r!bbelmonster through Facebook, Instagram and Twitter. If you post a crochet heart, please use the hashtag #ribbelmonster. Thank you!