WE WANT YOUR BROKEN FLAGS
Especially in June, when they are most visible, many community symbols are attacked and destroyed. This concerns in particular rainbow flags.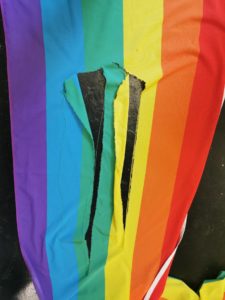 We at queerMaschen will not simply accept this.
We want to do our bit to save the rainbow. And we do it the way we do it best: with joint craftmanship.
Send us your torn, cut open, burnt rainbow flags, we will lovingly tend their wounds. And when they're healed, they're upcycled individually.
The individual pieces created in this way are then available for a donation. Net proceeds go to queer charities.*
Let's turn a vandalized flag into many little rainbow signals and turn a destructive act into a donation – Please contact: rettung@yarnpride.net.
If you want to know more, visit us at one of our gatherings or prefer another delivery option, also contact rettung@yarnpride.net.
Follow our page to see the progress of the project, find us on Facebook, Instagram, Ravelry and at yarnpride.net .
Sharing of this post is strongly desired!
*So far we have supported – as part of the annual YarnPride campaign – the counseling center Courage*, the Queer Base, LGBTIQ* teachers*, FAmOS and AfroRainbowAustria. You can find all information on www.yarnpride.net.